Last week, the social media platform Instagram has the mark of 400 million users cracked. The mobile Fotoapp allows its users special moments and stages of life from friends and family by sharing photos witness -as you would have in yourself. Instagrams Mission seeks to people around the world by using unique images better to unite.
Since 2013, the company is already working on a new advertising model - one might almost think, therefore, that the founders knew two years ago, which puts commercial potential behind their app. At the beginning of Instagram was available as an advertising platform mainly for large premium brands like Burburry who were prepared much time and money to invest in their campaigns.
This August, however, has finally officially released its API for promotional purposes and thus opens the Photo Stream on all advertising agents and Marketers Instagram.
The right image is everything
When placing an Instagram campaign is the content - here the picture - one of the biggest challenges for marketers is how do I create matching, high-quality content and when is the right moment to publish this.? Content must result-oriented, be unique and personal to points on Instagram. And like any Instagram user knows: The right image is everything!
During the dmexco 2015 in Cologne said Amy Cole, Head of Brand Development EMEA at Instagram, on the three principles of brand-loyal, divisible Content: develop its 1) "on-brand", 2) demonstrate a clear concept and 3) Content in Detail ,
We are all aware that businesses seek a personal connection with your target audience. However, it raises the question of how a social enterprise platform that is actually used mainly privately, can use for commercial purposes, without being forced and placed to act.
Retailers, such as the online retailer Zalando, can help increase the range of potential customers tailored to their target audience Posts on Instagram. With specific series like "Tuesday Shoesday" Zalandos Followers are even urged to take action. By providing their posts with the hashtag #tuesdayshoesday, they can communicate directly with the company and exchange information. In this way, an interaction can be done on a personal basis.
A platform for smaller companies
Instagram is by no means more a platform for only large companies. Even smaller companies can achieve many advantages with Instagram. A very good example is Almdudler. In Germany, the Austrian herbal lemonade is particularly known as a winter drink. Using an Instagram advertising campaign under the slogan "Summertime Feeling" was able to prove that it is more than a seasonal soft drink the family.
When it comes to so-called "Direct Response Buttons" or "call-to-actions" goes on Instagram, the young startup has Smartly.io an interesting example. In the advertising campaign of the company appears a man with top hat and wand with the slogan "Something magical is coming. #marketing ". By clicking on "Learn more" clicks, you will be redirected to a landing page on your Advertisement Automation Service is advertised on Facebook: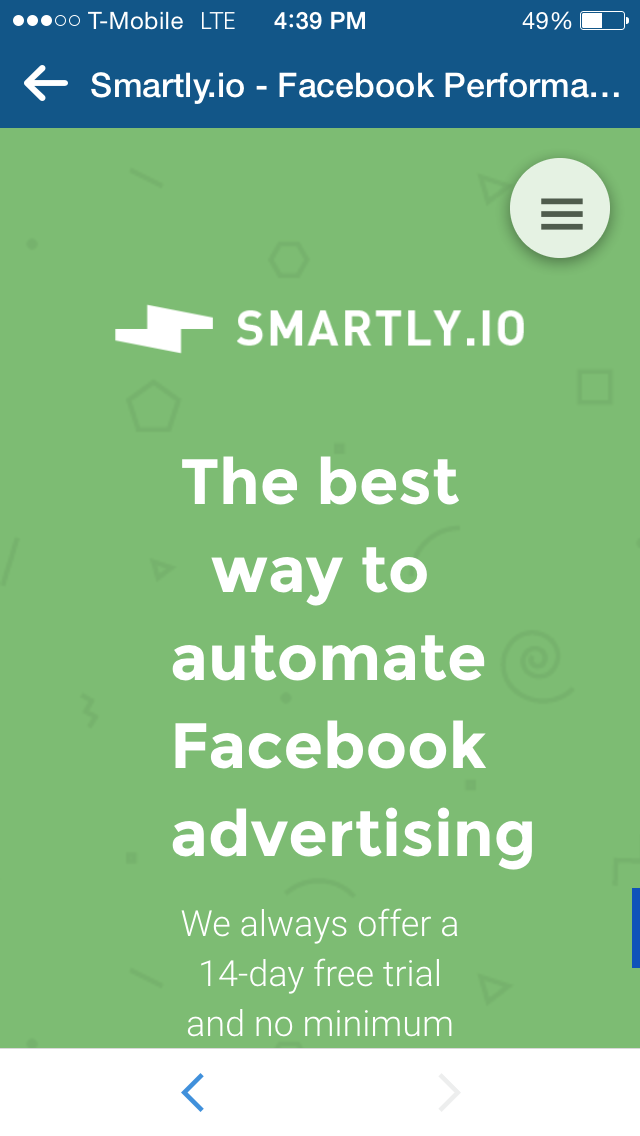 Smartly.io has here Facebooks technology used for the identification of target groups in order to specifically address companies that could potentially benefit from automating their Facebook advertising.
The Startup thus shows how companies can increase your conversion rate by forward this Instagram users to specific landing pages. At the same time they present their brand personally and automatically obtain an additional benefit.
Instagram as an advertising company
Examples of B2C companies such as Smartly.io, already the positive impact of advertising campaigns on Instagram show. The forecasts of analysts and market researchers look promising for Instagram. Gradually the Fotoapp a future as one of the largest advertising companies. EMarketer According Instagram will achieve by the end of this year, advertising revenues of $ 595 million and $ 2.81 billion by 2017.